PEMBERIAN EDUKASI PERSONAL HYGIENE GENETALIA SAAT MENSTRUASI PADA REMAJA PUTRI DI SMP NEGERI 15 MAKASSAR
Keywords:
Menstruasi, Personal Hygiene, Pengetahuan
Abstract
Personal hygiene education is an activity that provides knowledge about how to maintain personal hygiene during menstruation so that you can live a clean and healthy lifestyle. This community service activity was carried out at SMP Negeri 15 Makassar, on June 3 2023 with a total of 20 female students with the aim of increasing understanding of how to maintain the cleanliness of the reproductive organs during menstruation. The method used in this Community Service activity is to distribute questionnaires before (pre-test), carry out personal hygiene education during menstruation and after the activity (post-test) as a form of evaluation. The results of the pre test showed that 40% of the participants understood how to perform personal hygiene during menstruation and the results of the post test showed an increase in the knowledge of participants to 95% regarding personal hygiene during menstruation. This activity is highly supported to be carried out in a sustainable manner.
Keywords: Personal Hygiene, Knowledge, Menstruation.
Downloads
Download data is not yet available.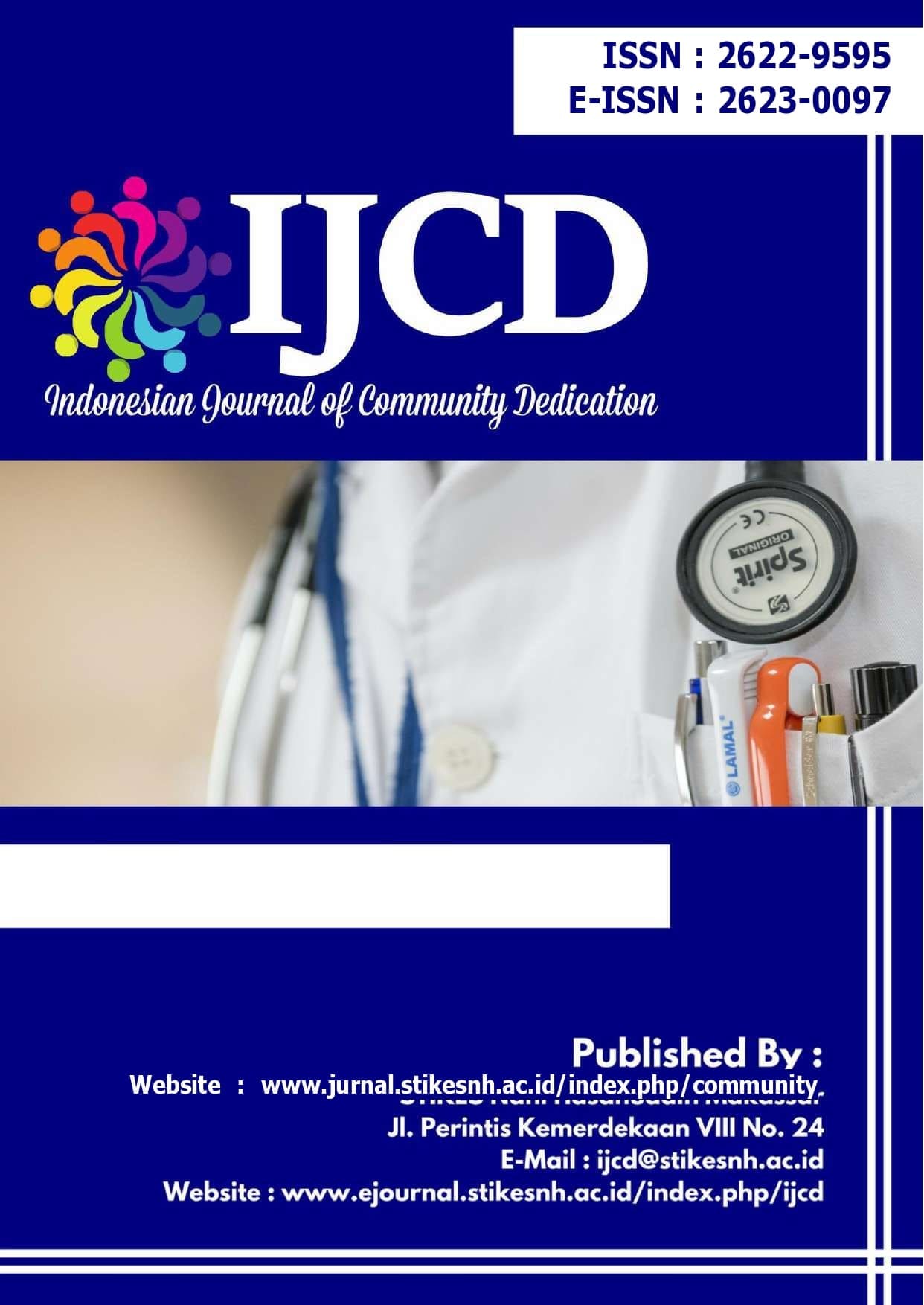 Downloads
How to Cite
sunarti, sunarti, & Kamaruddin, . M. (2023). PEMBERIAN EDUKASI PERSONAL HYGIENE GENETALIA SAAT MENSTRUASI PADA REMAJA PUTRI DI SMP NEGERI 15 MAKASSAR. Indonesian Journal of Community Dedication, 5(2), 22-26. Retrieved from https://jurnal.stikesnh.ac.id/index.php/community/article/view/1374